Damien Le Borgne
Associate professor at University Paris VI (UPMC)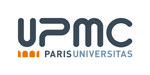 Contact
Institut d'Astrophysique de Paris
98 bis Boulevard Arago
75014 Paris, France
email: leborgne at iap . fr
Phone: (+33) 1 44 32 81 26
Fax: (+33) 1 44 32 00 01
Presentation
Teaching:

Physics for undergraduate students at University Paris VI
Numerical computing methods for Astrophyics graduate students at IAP/University Paris VI

Research topics:

Galaxy evolution
Models for the spectral evolution of galaxies (X-rays, optical, infrared),
Analysis of galaxy properties in deep surveys,
Link between cosmological numerical simulations and observations in deep surveys.

Research projects:

Empirical modeling of cosmic star formation history from a non-parametric inversion of galaxy counts in the mid-infrared, far-infrared, and sub-mm
GOODS-Herschel Open-Time Key project
Galaxy evolution in the CFHT-LS Deep survey
Gemini Deep Deep Survey (GDDS)
Scientific exploitation of the MareNostrum simulation (Horizon project)
Nature of Gamma-ray burst host galaxies (GHostS project)
Cosmology with supernovae and supernovae progenitors (SNLS)
Modeling galaxies SEDs in the optical (PEGASE)
...
Short CV
Supélec Ingeneer (1997-2000)
Master degree in Astrophysics (Meudon, University Paris XI, 2000)
PhD of the University Paris XI (2000-2003)
Title : "Galaxy evolution at X-rays and optical wavelengths: Cosmic star-formation history and metallicity evolution".
Institute: IAP, France
Manuscript: here
Post-doc at the Astronomy Department of the Univserity of Toronto, Canada. Supervisors: Roberto Abraham & Ray Carlberg (2003-2005).
Post-doc at the Service d'Astrophysique, CEA/Saclay, France. Supervisor: David Eblaz (2005-2008).
Permanent position as a Maitre de conférences (associate professor) at the University Paris VI, Pierre et Marie Curie (UPMC). Research laboratory: Institut d'Astrophysique de Paris (2009).
Publications
---
Dernière mise à jour :
25/02/2013